SOLO SEA KAYAK :: VALLEY SEA KAYAKS ETAIN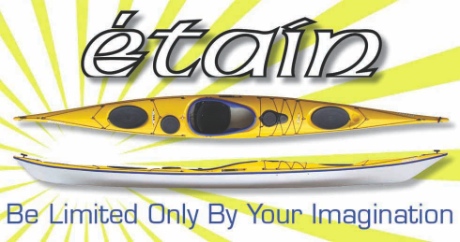 ---
The Etain is a conscious departure from previous Valley designs. Valley kayaks were traditionally more fish-form i.e. widest point slightly forward of centre. The Etain is more neutral, in fact very slightly Swede form i.e. widest point rear of centre. Swede form kayaks have a different feel, slightly more glide and a perception of speed that is more noticeable because you are now paddling in a narrower part of the boat. The paddling stroke is also less encumbered and there is a general feeling of having less boat between you and the water. Other features of the Etain are a hull that has a shallow to moderate 'V' in cross-section for good initial stability and rocker, that would best be describe as moderate i.e. slightly less than some older Valley boats to provide secure tracking but still enough to provide a lively ride.
The Etain also features a removable deck-pod storage-unit in front of the cockpit. Whilst holding the same as a regular 4th hatch/compartment, the advantage is, it can be taken up the beach (or into the car/house) with you. The deck-pod is ideal for things like valuables, snacks, car keys, and small items of safety-kit that you might always want close to hand*. Other features of the Etain include a locking point situated behind the cockpit and special attention given to cockpit ergonomics.
Standard feagures of the Etain include: three hatches with bulkheads; removable deck-pod storage; adjustable footrests; padded seat and backrest; end toggles; retractable skeg; compass recess; perimeter lines & bungee.
Length: 17 feet 7 inches
Width: 21.5 inches
Cockpit Size: inches
Hatch: front; rear and day plus removable deck-pod
Outfitting: skeg
Volume: gallons / liters
Materials: Available in Carbon Kevlar, Fiberglass (weight = 50 pounds, Carbon Kevlar)

Please Call for current pricing.
Inventory Listing:
Manufacturer
Model
Length
Material of Construction
Color
Options
No entries found
---
All Valley Sea Kayaks come with a full spectrum of options as standard features. Please Call for current pricing.

Special orders, including customization are welcome. Please Call our showroom at 845.229.0595 if you do not see a specific model or color option in stock. We may have that model / color combination on order and it is just not showing up on this list yet. For a full listing of our inventory, please see our Kayak and Canoe Inventory listing.

We also have many fleet boats available at discount, please refer to our Demo and Fleet (Used) Kayak and Canoe Inventory listing.